BURSON AUTO PARTS AND LAMATTINA TOP FUEL RACING JOIN FORCES
JANUARY 11, 2022
Hot on the heels of the announcement that Australia's Burson Auto Parts had taken on the naming rights of the 2022 Australian Top Fuel Championship, comes another extremely high octane addition to the Burson Auto Parts racing stable.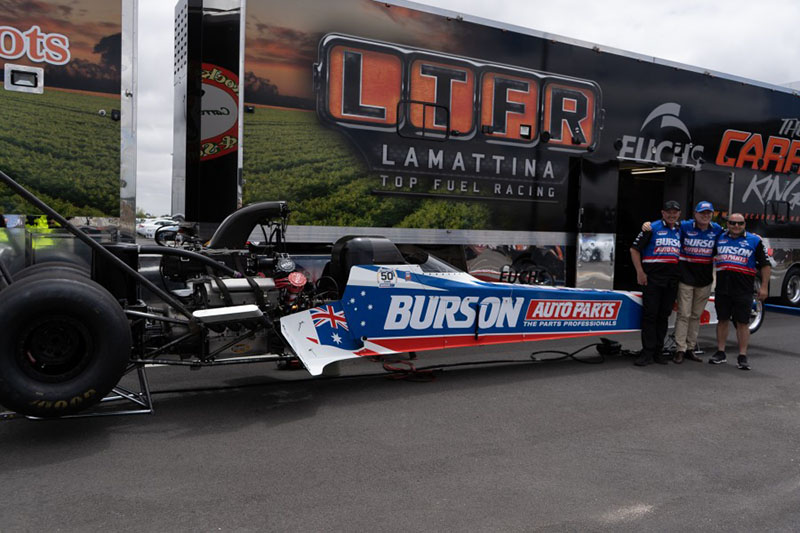 Burson Auto Parts has also formed a marketing partnership with one of Australia's most successful Top Fuel Drag Racing teams, Lamattina Top Fuel Racing. This was spectacularly unveiled at the Bapcor Victorian Distribution Centre in front of hundreds of team members at the end of 2021.
This four time Australian Top Fuel Championship winning team will showcase the proudly Australian themed Burson Auto Parts livery across one of their two Top Fuel dragsters. The Burson Auto Parts Top Fuel dragster will be driven by highly experienced racer Shane Olive in the 2022 Burson Auto Parts Australian Top Fuel Championship.
The Burson Auto Parts ambassador has been drag racing since he was 17 years old, having worked his way through the ranks in brackets such as Super Street, Super Sedan, Doorslammer, Fuel Altered and Nitro Funny Cars.
Olive will be racing with more than 11,000 horsepower reaching speeds of more than 500kph and taking around 3.8 seconds to cover over 1,000 foot racing distance - making the earth shake each time he does so across a planned six events around the country.
"I have worked on Top Fuel Dragsters and been around them most of my life. I have always admired the speed and challenge that these cars offer, and it is awesome to have the opportunity to race one with Lamattina Top Racing Team and with the fantastic support of Burson Auto Parts. I'm so excited and thankful," Shane Olive stated.
Team owner and champion drag racer Phil Lamattina added, "We have much of the same crew and some new faces to help the team run at the highest level this season, so it is business as usual with the second car, now featuring the support of the country's leading trade supplier of parts, tools accessories and equipment in Burson Auto Parts - we are more than ready!"
Burson Auto Parts General Manager - Marketing, Anthony Hughes, is pleased to welcome Shane Olive and Lamattina Top Fuel Racing to the company's extensive and exciting motorsport program for the new year.
"We are fortunate to not only be sponsoring the Australian Top Fuel Championship from this year, but to also be on board with one of the country's best drag racing teams in Lamattina Top Fuel Racing. There are few motorsport events that compare with the sound, speed and exhilaration of Top Fuel drag racing.
"We look forward to being a part of it in 2022 and beyond, joining our many other motorsport involvements from grass roots level upwards."
Burson Auto Parts is Australia's most trusted trade supplier of parts, tools, accessories and equipment with more than 200 stores located across the country. The Australian company celebrated its 50th Anniversary in 2021.