BURSON AUTO PARTS BLITZES AUSSIE MOTORSPORT
NOVEMBER 17, 2021
Australia's preferred trade supplier of automotive parts, tools, accessories and equipment, Burson Auto Parts, has embarked on a major motorsport marketing program in 2021, which culminates with no fewer than five high profile cars across four of the country's major motorsport categories.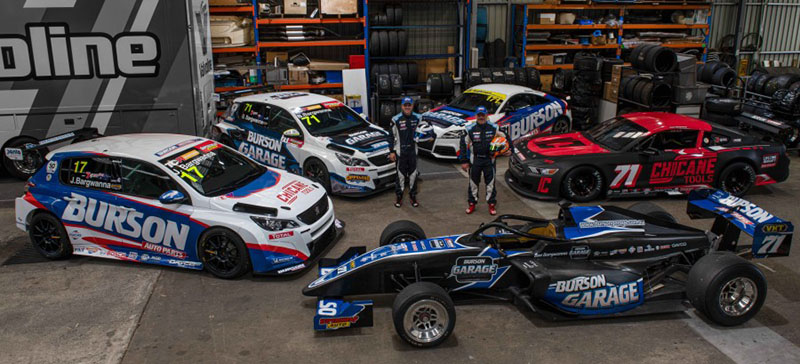 The proudly Australian automotive aftermarket specialised company has supported motorsport from grass roots level all the way through to the top categories for several years, but never before have so many frontline racing cars carried the industry renowned Burson Auto Parts logo during the same timeframe.
Burson Auto Parts supplies Australia's automotive technicians with the parts, tools, equipment and accessories to suit the vast numbers of makes, models and engines on our roads. Therefore, it is more than fitting that the 2021 Burson Auto Parts motorsport program also covers a wide spectrum of cars, engines and transmission systems.
Burson Auto Parts is fielding left and right hand side drive racing cars which are front wheel drive, rear wheel drive and all wheel drive. These cars are powered by V8, 4 cylinder and 5 cylinder engines. The Burson Auto Parts racing fleet includes two Peugeot TCR Australia cars (one having scored a Phillip Island race victory earlier this season) one Audi TT RS Production Car (which won three races out of three on debut in November), one fire breathing Ford Mustang Trans-Am car and to cap it all off, one state of the art S5000 open wheeler racing car. Both the Chicane Tools Trans-Am and the Burson Garage S5000 will debut at Sydney Motorsport Park this weekend (Nov 27 -28).
Both Burson Auto Parts TCR Australia cars will return to the track during the week long Bathurst 1000 motorsport festival from December 2 to 5, while the Burson Audi TT RS will be back in action next Easter weekend (April 15 -17) for the 2022 Bathurst Six Hour production car enduro.
According to Burson Auto Parts General Manager - Marketing, Anthony Hughes, the Australian company's motor racing program has organically grown to become the most comprehensive of the automotive aftermarket industry.
"Even with the disruption to motorsport during 2021, we have still managed to promote Burson Auto Parts, our valued supplier partners and sister Bapcor brands, like Chicane Tools, to a vast automotive technician and enthusiast fan base this year. We are proud to see our motorsport program grow so strongly across a number of categories as 2021 draws to a close," Mr Hughes said.
All of the Burson Auto Parts racing cars taking part in these exciting motorsport categories have been meticulously prepared by Garry Rogers Motorsport, one of the country's premier motor racing engineering companies, overseen by the highly experienced Burson Auto Parts team driver and team manager, Jason Bargwanna.
"We are proud to have made Burson Auto Parts one of the most prominent brands in Aussie motorsport during 2021, there is no doubt we have it covered, whether your passion is a hot hatch, thunder on wheels, endurance production cars or the mighty Mussy, we've got you.
"Together we have all endured this turbulent time, but we are coming out of it with a bang - a turbo charged V8 all-wheel drive high downforce combo bang!" Bargwanna said.
"Both Ben and I believe in the team at Burson Auto Parts and their specialised team members around the country. Their passion for racing is evident and we love cheering on the other racers that champion the brand.
"Their commitment, belief and passion are inspiring and we continue to work hard to hold up our end of the bargain. I am just glad we can be part of the story and etch our name in the motorsport history books together with Burson Auto Parts," Bargwanna added.
In addition to these major motorsport categories, Burson Auto Parts is also the presentation sponsor of the grass roots level and always exciting Excel Series races taking place at the Phillip Island Magic Motorsport Festival taking place at the spectacular Victorian seaside circuit on November 27 and 28. Mike Sinclair's Burson Garage Excel will also be competing in these races along with a huge line up of historic, sports and production racing categories.
Additional Burson Auto Parts support is provided for junior motorsport and club level community and customer sponsorships for competitors and associations. These include other teams and drivers competing in the Excel Series, SuperKarts, V8 Jet Boats, HQ Racing, Sprintcars along with several local, state and national motoring enthusiast events.