BURSON AUTO PARTS RENEWS SPONSORSHIP WITH LAMATTINA TOP FUEL RACING
AUGUST 24, 2022
Burson Auto Parts and Lamattina Top Fuel Racing are excited to announce the renewal of their marketing partnership as naming rights sponsor for the Shane Olive driven Lamattina Top Fuel Racing (LTFR) Dragster.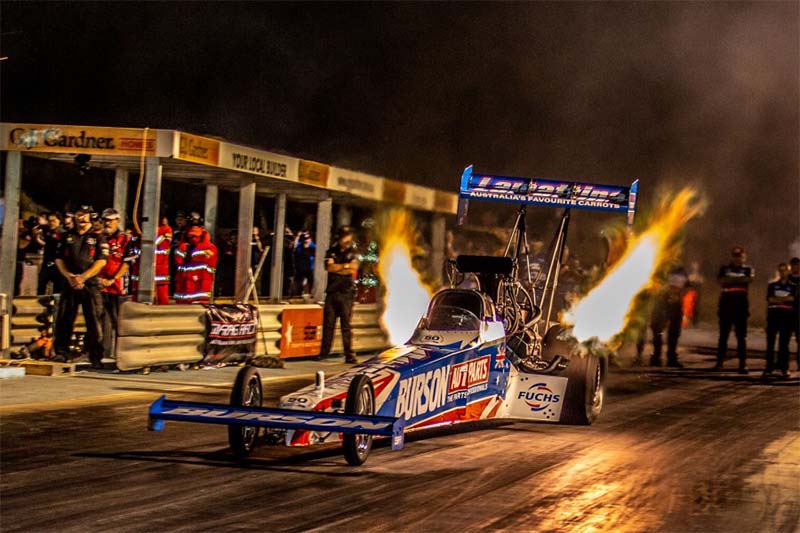 "Burson Auto Parts is delighted that we could play a part in lighting up the pinnacle of horsepower in Australian motorsport for the first time in many years," said Anthony Hughes, Burson Auto Parts Marketing Manager.
In their inaugural year as a team, Shane Olive and the Burson Auto Parts LTFR team enjoyed an impressive season, culminating in a breakthrough event win at the Nitro Champs.
"There were so many highlights, including the stellar work done by Shane Olive in his first season and the commitment shown by all of the Top Fuel teams that that put together world class vehicles for all six rounds," Anthony Hughes stated.
Both Olive and rookie nitro Crew Chief Luke Marsden will now take the experience and steep learning curve from their debutant year and apply it to the upcoming season.
The Burson Auto Parts ambassador and driver Shane Olive commented, "I think as a team we achieved everything we set out to do for our first season. With round one about to kick off, we have a few new goals we want to achieve, and with the continued support of Burson Auto Parts, it makes for an exciting season."
Team owner Phil Lamattina added, "I am thrilled with all that Shane and the team have achieved in their first season and we are proud to be representing, and to have the support of the country's leading trade supplier of parts, tools accessories and equipment in Burson Auto Parts on Shane's car."
"Burson Auto Parts has also supplied the team with some new tools and the crew will be doing everything they can to get the Burson Auto Parts LTFR Top Fuel Dragster in the winner's circle as many times as possible."
After just one season, the inaugural Burson Auto Parts Australian Top Fuel Championship has already set the bar for event promotion and spectator experience in drag racing.
"Burson Auto Parts also thanks Andy Lopez and the promotions team for making Top Fuel events special for every entrant, attendee, viewer and sponsor of the series," Anthony Hughes added.
"Burson Auto Parts is very excited to help light up series two of the championship for a total of seven rounds, with the inclusion of South Australia, Queensland and Alice Springs. This season is sure to create many more future fans of this amazing category of motorsport."
The first round of the 2022/2023 Burson Auto Parts Australian Top Fuel Championship kicks off at the Red CentreNats in Alice Springs on September 1 and 2.
Burson Auto Parts is Australia's most trusted trade supplier of parts, tools, accessories and equipment with more than 200 stores located across the country. The proudly Australian company celebrated its 50th Anniversary in 2021.
Visit and follow Lamattina Top Fuel Racing on Facebook throughout the upcoming season here.