BURSON RACER MAKES IT THREE WINS OUT OF THREE IN PRODUCTION CAR SERIES DEBUT
NOVEMBER 10, 2021
Burson Auto Parts ambassador Ben Bargwanna has made a stunning NSW Production Car Series debut with three victories in all three races held at Sydney Motorsport Park over the weekend of November 6 and 7.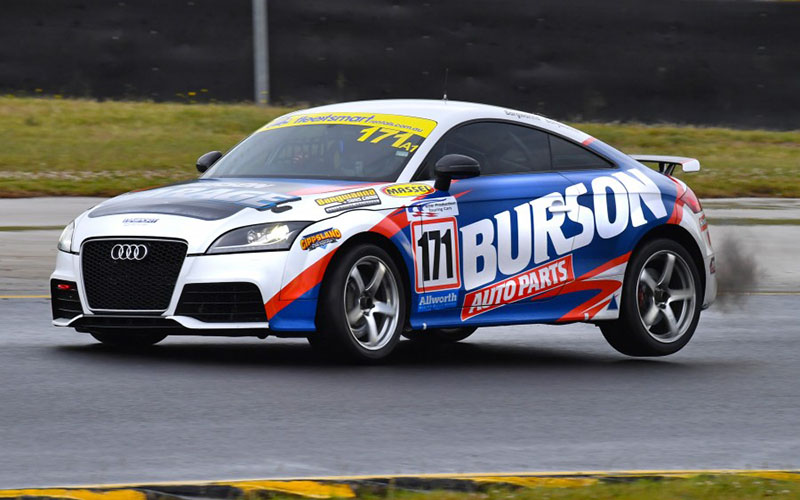 The TCR Australia rookie driver was competing for the first time in the Burson Auto Parts Audi TT RS, a car prepared meticulously by his father and highly accomplished racer and fellow Burson Auto Parts TCR Australia driver Jason Bargwanna.
Ben Bargwanna managed to maximise his two practice sessions in the car, to climb from 11th to 4th by the second practice session, gaining a strong understanding of the Audi's performance characteristics on the 3.9 kilometre Sydney Motorsport Park circuit.
On just his second lap of qualifying, the 20 year old Burson Auto Parts racer set a lap time that saw him miss pole position by just 0.007s, firmly planting him on the front row for the Saturday's opening race which was held in damp and tricky conditions. After being challenged for the lead on a number of occasions, Bargwanna showed racing maturity beyond his years to remain calm, regain the lead and take his first victory of what was going to be a dominant debut event.
Bargwanna had to cope with changing track and weather conditions along with some speedy competition during the three Sydney races.
"It was an amazing weekend from the get-go!" Bargwanna said.
"During the first two races the rain came and the Audi came to life, I was able to pull some good gaps until reaching the lapped traffic but I comfortably had the pace to extend the gap again.
"The final race was dry, this meant that I had to get a good start and maximise the strengths of the Audi which was its corner balance and corner exit drive. I was able to create a big enough gap by setting the fastest laps of the race which earned my third win in a row for the weekend," He added.
This event was an excellent preview to what Ben Bargwanna and his younger cousin Jude Bargwanna can look forward to when the Burson Auto Parts Audi TT RS returns to the track for the 2022 Bathurst Six Hour Production Car enduro which will take place at Mount Panorama from April 15 to 17, 2022.