SO MANY WINNERS FROM BURSON AUTO PARTS' 50TH ANNIVERSARY CELEBRATIONS
FEBRUARY 21, 2022
Australia's Burson Auto Parts ensured that its 50th Anniversary celebrations included its trade customers, store managers and staff throughout 2021.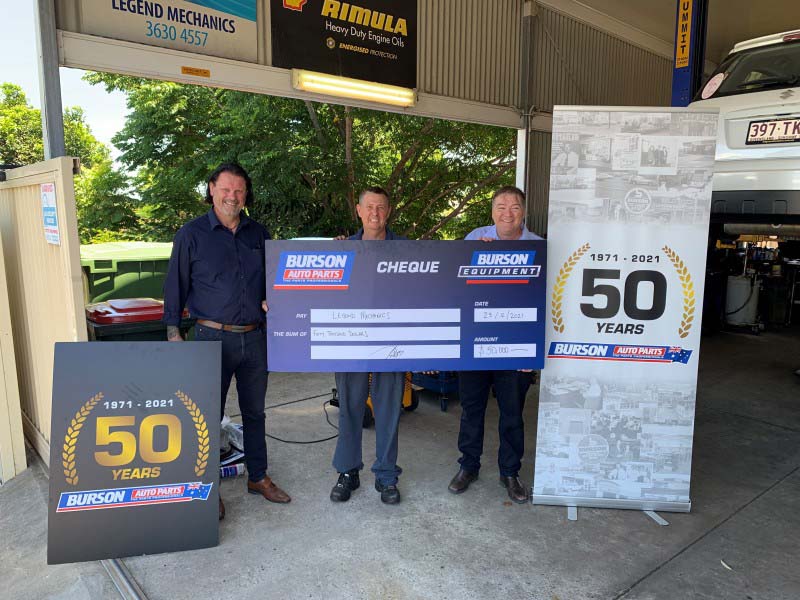 Kicking off the company's Golden Anniversary year was the Burson Auto Parts $50,000 in 50 weeks trade customer cash giveaway. The year long promotion saw 50 Burson Auto Parts trade customers across Australia win $1,000 Visa gift cards every week, simply for purchasing their automotive parts and products from Australia's preferred trade supplier during its Golden Anniversary year.
The Burson Auto Parts 50th Anniversary celebrations also rewarded Team Burson star performers across the company's 14 national regions. Each winner received a $500 Visa gift card along with a commemorative Burson Auto Parts 50thAnniversary certificate.
At the very top of all the promotions aligned with this very special Australian automotive aftermarket company milestone, one lucky Burson Auto Parts trade customer won the 50th Anniversary Grand Prize of $50,000.
The Burson Auto Parts 50th Anniversary Grand Prize winner was Craig Stewart of Legend Mechanics located in the Brisbane suburb of Nundah. This long established automotive service business has been a loyal customer of the Burson Auto Parts Virginia store for many years. Craig described his win as a life changing experience, with the prize to be spent on both his family and his business.
Burson Auto Parts also conducted 50th Anniversary themed regional and major city trade shows wherever possible. In addition, items from the specially produced 50th Anniversary merchandise range were distributed to Burson Auto Parts trade customers across the country throughout the year.
Commemorative Burson Auto Parts 50th Anniversary oil containers proved popular with trade customers along with special supplier specific sales promotions and events, making 2021 a very special year for all involved.
The half century celebration even extended to the race circuits of Australia with several Burson Auto Parts racing cars featuring the company's 50th Anniversary logo. One of the Burson Auto Parts TCR Australia cars competed all season using the racing number 71, commemorating the year that the first Burson Auto Parts store was opened.
Burson Auto Parts print media and online advertising, along with social media content carried the golden anniversary theme throughout, ensuring that this outstanding company milestone was promoted at every opportunity. This included the distribution of special 50th Anniversary interviews with key people who were integral and fundamental to the establishment and success of this Australian company.
The pandemic situation forced the annual Burson Auto Parts Awards to be a virtual event in 2021 and while the company's special achievements of its 50th Anniversary year were celebrated, the milestone year deserved a celebration in person. Therefore, the company's celebrations will continue into 2022 with a Gala Dinner to be held in line with the Burson Auto Parts Manager's Conference, which was also postponed in 2021 due to the pandemic.
According to Steve Drummy, Bapcor Executive General Manager - Trade, no stone was left unturned in the company's 50th Anniversary celebrations.
"We are delighted to have been able to celebrate this milestone together with our highly valued and loyal trade customers, our hard working and dedicated team members and our outstanding suppliers," Mr Drummy stated.
"While there were some unavoidable disruptions to our plans, our trade promotions and internal activities continued unabated, ensuring that it was a year of celebration and continued growth for all. We intend to continue with a number of rescheduled events in 2022, so the celebrating isn't quite over yet," Mr Drummy added.