BURSON AUTO PARTS WORKS TIRELESSLY TO BE AUSTRALIA'S NUMBER-ONE CHOICE FOR AUTOMOTIVE AFTER-MARKET PARTS, WORKSHOP ACCESSORIES AND WORKSHOP EQUIPMENT.
Over 50 years of success
Founded in 1971 by Garry Johnson and Ron Burgoine, initially distributed a small range of automotive accessories to service stations and automotive outlets around Melbourne. The name Burson was created as a combination of their respective names – Garry Johnson (the "Son" in Burson) and Ron Burgoine (the "Bur" in Burson.) The business quickly grew as it expanded its range of products and services. Today, we have over 1800 team members and over 210 stores across Australia, building a reputation with mechanics and do-it-yourself enthusiasts nationwide. In 2018, we began our international expansion, opening a store in Bangkok, Thailand. As we expand internationally, we are still an Australian-owned business, and we operate at Australian-level standards, ensuring that we never let our team and customers down.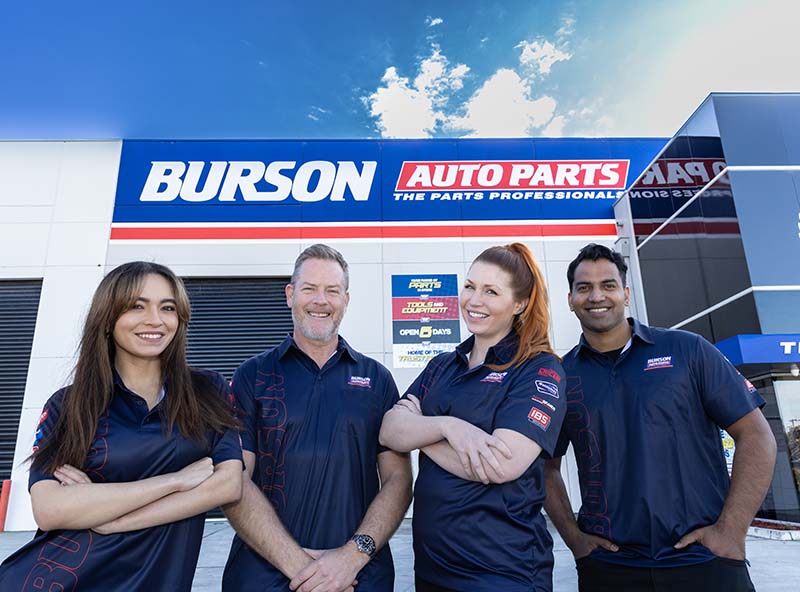 We aim to deliver our customers the best experience possible.
We pride ourselves on our delivery service, it's been at the core of Burson Auto Parts since the beginning. With over 850 delivery vehicles around Australia, we reach mechanics far and wide; in metro cities, the suburbs and regional towns.
Burson Auto Parts has stores in every Australian state and territory, these stores are supported by our state-of-the-art distribution centres in Tullamarine, Victoria and Hemmant, Queensland. Together they provide daily services to our 210+ stores across Australia, ensuring our customers' needs are met within a short time frame.
More parts in stock than any other automotive chain.
Burson Auto Parts has partnered with over 1000 suppliers across countless categories guaranteeing that we offer the best products available to our trade customers and do-it-yourself regulars. We endeavour to provide cost-effective solutions so our customers get quality products for the right price.
We push ourselves in continued product range expansion across after-market automotive parts, ensuring we consistently lead the industry. Over the years, we have continuously expanded to workshop equipment and accessories, giving our ever-growing customer base an extensive product range beyond after-market automotive parts.
We go above and beyond to find the right solution for our customers.
Our team consist of automotive industry professionals and car enthusiasts, we aim to understand our customers' business and provide them with first class knowledge. At the core of our business is a can-do attitude; we get things done and we do the right thing. Knowing that our people share the same passion as our customers, we're confident they find the solution they need with Burson Auto Parts.
Having over 40,000 trade customers, we are committed to supporting them and helping them grow their businesses. Through industry-leading product education and ongoing support, we've developed Burson EzyParts.

We continuously innovate Burson EzyParts to help independent automotive workshops operate more efficiently. This program has allowed mechanics to identify, quote, order and fit the correct parts for any job. Whatever the vehicle, we have Australia's auto repairs and service centres covered.