BURSON AUTO PARTS SPONSORED TOP FUEL TEAM TAKES RUNNER UP HONOURS IN 2022
JUNE 24, 2022
The inaugural Burson Auto Parts Australian Top Fuel Championship came to an end at the spectacular Nitro Up North event held at Darwin's Hidden Valley Dragstrip on June 17 and 18.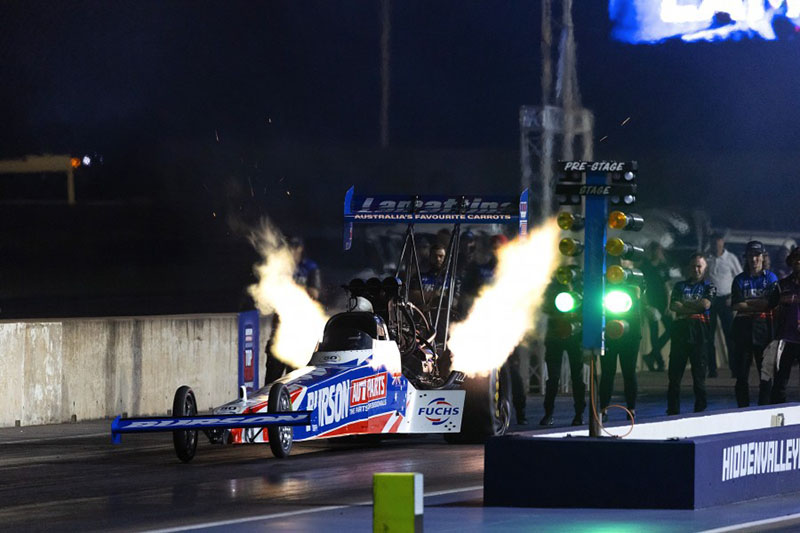 While team owner and driver Phil Lamattina missed out on the title in a duel that included racing his Burson Auto Parts team mate Shane Olive twice, it was rival Peter Xiberras who took home the 2022 Burson Auto Parts Top Fuel Championship trophy after an impressive season long performance.
"Congratulations to Peter and his team, they have done a great job and deserve the rewards," Lamattina said.
"We have nothing to complain about, we had a good season. I was the first driver to win two events and my teammate Shane won his first event in a rookie year, plus a stack of podiums.
"None of this would be possible without the support of Burson Auto Parts and FUCHS Lubricants, we are lucky to have such awesome support from them as well as Dayco, Rocky Lamattina and Sons and everyone else who has helped along the way," Lamattina added.
While the team results saw Phil Lamattina fall just short of the championship title, this marquee event was fantastic for the teams and the fans, held in conjunction with the Supercars and the Australian Superbikes Championships at the Merlin Darwin Triple Crown.
Lamattina went into the final with 450 points, just 10 points behind championship leader Peter Xiberras. In his rookie season, Burson Auto Parts Top Fuel Dragster driver Shane Olive arrived at the event with 260 points and at sixth position in the championship.
The Darwin track provided some challenges for the each car's tune-ups. Along with the heat and humidity, track conditions were challenging with no racing on the dragstrip held during the day, and very limited racing on the surface in the lead-up to the event.
Lamattina finished the championship as Runner-Up with 500 points, 40 behind new champion Xiberras. Olive finished in sixth with 330 points in what was an outstanding rookie season.
Team boss Lamattina explained, "Of course we are disappointed, but that's racing, you win some, you lose some."
"We will be in Alice Springs to start the new Burson Auto Parts Top Fuel Championship season in just two months, so now we will prepare for that. Whether it is myself or Shane, it's time for some gold for the trophy cabinet," Lamattina stated.
The 2022/23 Burson Auto Parts Top Fuel Championhip gets underway as one of the major attractions of the Red Centre Nationals event taking place in Alice Springs on September 1 and 2.