BURSON EZYPARTS - FASTER, SIMPLER AND CLEANER
DECEMBER 3, 2021
Australia's preferred trade supplier of parts, tools and equipment, Burson Auto Parts, has unveiled their all new, web enabled, simplified and speedier Burson EZYParts catalogue and ordering system for trade account customers.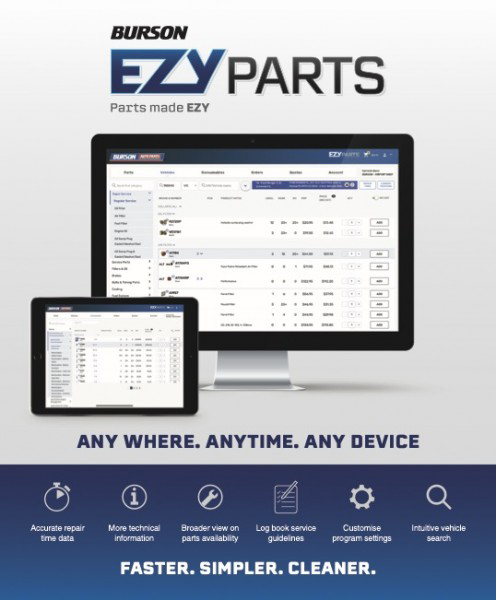 Designed to assist automotive repairers find and order the parts they need and ensure that they are operating at the maximum possible efficiency, Burson EZYParts reduces the time spent finding, ordering and quoting the correct parts required for the vast majority of general automotive vehicle servicing and repair work.
Burson EZYParts provides a broad view on parts availability, detailed technical information and accurate repair time data to enable repairers to see the stock available at multiple Burson Auto Parts stores within their proximity.
The speed and efficiency of the Burson EZYParts system is enhanced with intuitive vehicle search functions that include Registration, VIN and Free Text capabilities to help you find the exact replacement or service parts required quicker than ever before.
Burson EZYParts also includes more detailed product information and product images covering the vast range of quality service and replacement parts in the Burson Auto Parts range. The system also easily allows for side by side parts comparisons to be made before making parts purchasing decisions.
Burson Auto Parts trade customers can also customise their Burson EZYParts interface to perfectly suit their own customised profit, quotation and other cost factor requirements. This ensures greater accuracy of customer quoting, reducing the possibility of invoicing errors and inconsistencies.
Updated vehicle Log Book Service guidelines ensure that customers receive the correct service as required for their specific vehicle requirements. This also enables Burson Auto Parts trade customers to provide more accurate quotations for specific jobs including labour time to their customers.
According to Steve Drummy, Executive General Manager, Burson Trade, Burson EZYParts offers every Australian automotive workshop the most complete Burson Auto Parts online catalogue and E-commerce software package.
"We have invested significantly in making our valued trade customers lives easier. There is no doubt that once a workshop operator is running this totally updated parts sourcing, ordering and business assistance software package that they will be saving significant time and money," Mr Drummy said.
"It is easy to use, faster and cleaner as it is a total software package that has been custom designed to suit the specific requirements of Australian automotive repair and service providers. We know that once our trade customers use Burson EZYParts anywhere, anytime and on any device, it will become an integral part of their business management," He added.
To organise Burson EZYParts for your business contact your local Burson Auto Parts store by calling 1300 BURSON (287 766).